A little while ago I was begrudgingly walking around Morden charity shops while holding my breath, when I found a pretty nice polyester jumper for £2. It's not normally a colour I'd ever even consider wearing. But I guess that's what's so great about charity shopping, you don't really have much of a choice and it's so cheap you can afford to try new things out.
I would usually prefer to enter the spinning hellmouth that is Primark, than sift through rails of white leather skirts and multi-coloured stripe crop tops with suspiciously soiled armpits. This helps me sort of have no guilt about buying sweatshop made clothes, at least they're only soiled with childrens tears.
I'm a bit of a charity shop/vintage snob, in the way what I think it's vile wearing peoples second hand clothes. I get so freaked out about the snotty sleeves and the tissues in pockets and scrunchies in the bottoms of handbags. YUCK. But sometimes I can just about handle it, after a high temperature, vigorous wash.
Due to the vigorous washing, I've given this jumper enough electrical charge to keep the head-torches beaming on the sweatshop kids for long enough to finish my summer wardrobe. Instant reminders of how much of a terrible person I am for shopping in Primark are delivered to me in the form of static shocks and making my hair stick to my face. So actually, I am not a winner in this instance.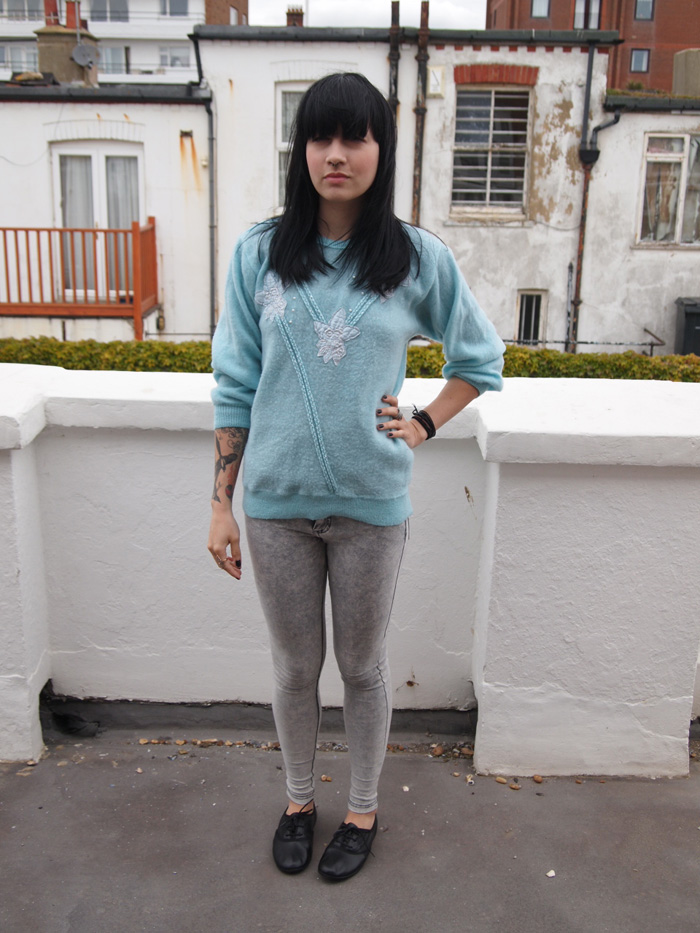 Jumper: British Heart Foundation
Jeans: New Look
Shoes: Office