I've just made £66 on ebay from selling shoes that have never fit me but I was too stubborn to admit it. I wanted small looking feet and figured if the chinese came up with the idea of  feet-binding, then I could deal with a little discomfort of tight fitting shoes. Obviously, I didn't read about the deformities that occurred due to foot-binding. So anyway now I have, and hastily sold most of my size 4 shoes. Most.
In doing so, I have manifested funds for a new black slip dress, some shoes that aren't shoes but are kind of trainers and plimsols, but also not (I have no idea what they are actually, surprise shoes), and also some mini polka dot hair straighteners. I feel distressed when I travel and can't take my amazing spin-dry hairdryer with me, so these hair straighteners should give me enough of a curl to get me through the day. Phew.
As I'm as flat chested as a 13 year old boy (burger consumption permitting), the slips lacey bust has a futile existence. I covered it with a cropped tie-top from Topshop that I've struggled to wear thus far, as I haven't had an exposed mid-drift since the days of raving with glow-in-the-dark belly button piercings. Remember those days? Of course you don't. Also, I found that the layer helps give a bit of shape to the dress too.  Please note the surprise shoes and if you know what the correct name for them is… don't tell me actually, I like the name surprise shoes.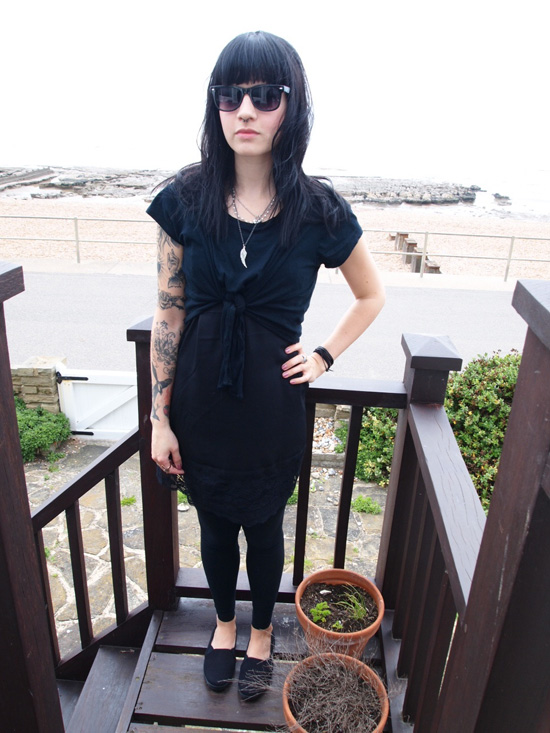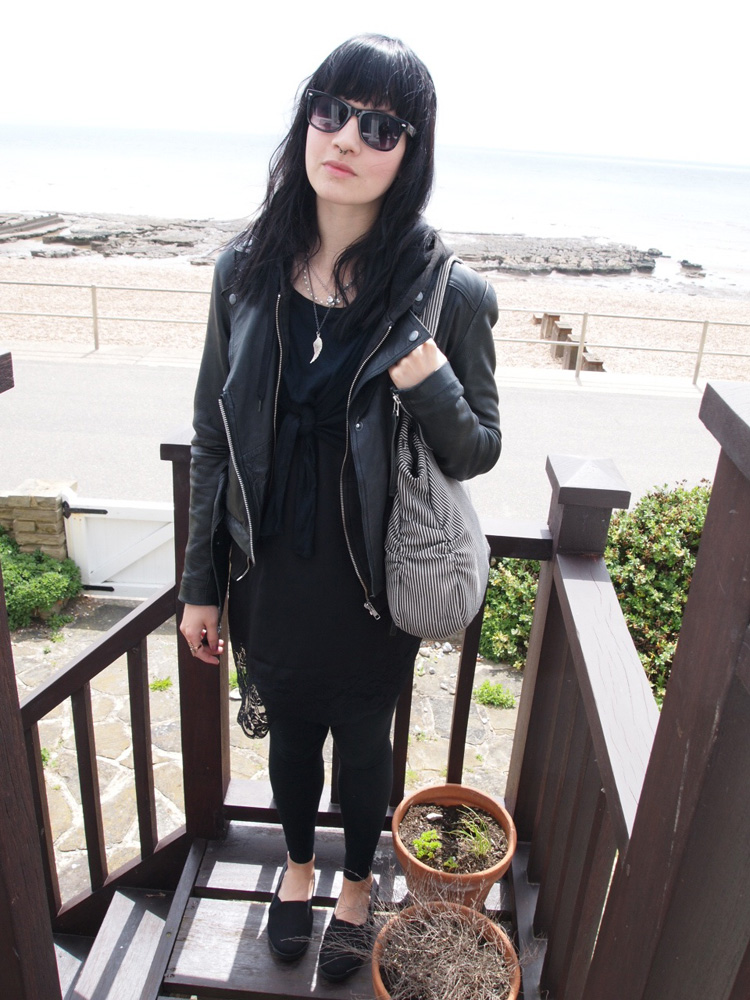 Jacket, cropped top, slip, necklace, bag and shoes: Topshop
Hoody: H&M
I can't believe how many things I'm wearing from Topshop. Pretty horrendous, but it's rescued by the fact (according to fat people) I'm wearing such a vast combination of black that I'm virtually invisible.