A few years ago I bought some grey leopard print leggings from Miss Selfridges. But I never really felt comfortable wearing them outdoors as they looked more like pajamas, so I wore them around the house and in bed. Then recently, while falling asleep singing an X song in my head, I had a revelation – I wanted some standard brown leopard print leggings, and I wanted them now. Thanks to ASOS' new free delivery policy, I dragged myself out of bed and bought them immediately.
I have now received them (a teeth grindingly long 5 days later) and even if I think they only go well with baggy t-shirts, I still want to wear them every day. I love them so much. They're like a lazy gesture at looking more interesting or staaahlesh. I dunno, I have no regards for what is fashionable, I read girlie magazines because I don't have any other interesting hobbies. I went through my horses phase when I was 11, and grown women reading Cats World on a train usually smell like fish and beef jelly, so that's not an option; however much I love the fluffballs. The music magazines are really disappointing these days, I remember when NME was in newspaper form and 90p. Funnily enough I'm quite bitter about spending £4 to read about music I don't even like. And you can't buy riot grrl zines in WH Smiths, unfortunately. So, Cosmo it is then (turns out I'm a selfish lover and I have cystitis).
I also ordered a Kill Rock Stars tote bag, that is huuuge and has tons of lovely pockets to lose my phone in and panic when I can't find it.
When I went out wearing this outfit I felt really self conscious because it's pretty much my pajama outfit, minus the grey leopard print leggings; and fluffy bootie slippers of course. It is, however, the comfiest clothes ever compiled in the history of dressing. If there was no fundamental laws of physics, I'd go back in time (in my phonebox) and rub it in Victorians faces. I'm not even wearing a bra, fuck you.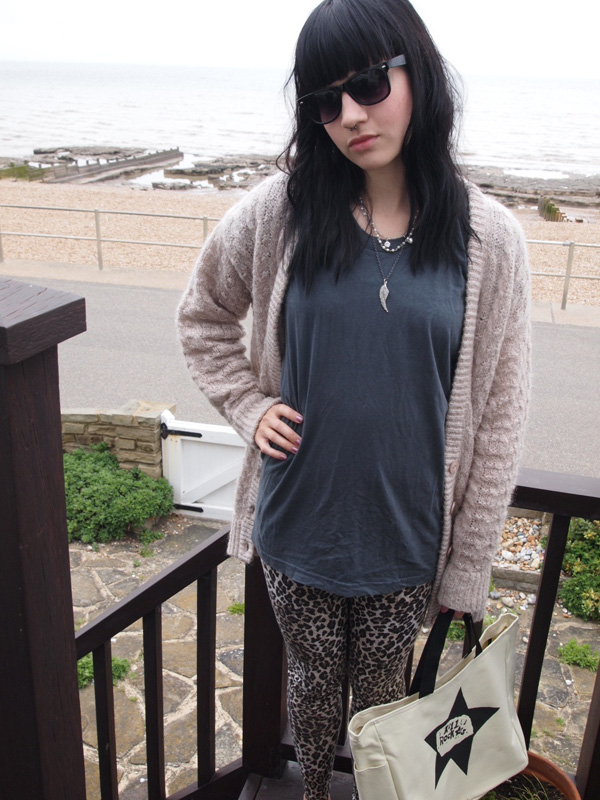 Cardigan: Topshop
T-shirt: American Apparel
Leggings: ASOS
Bag: KRS
Shoes: Office